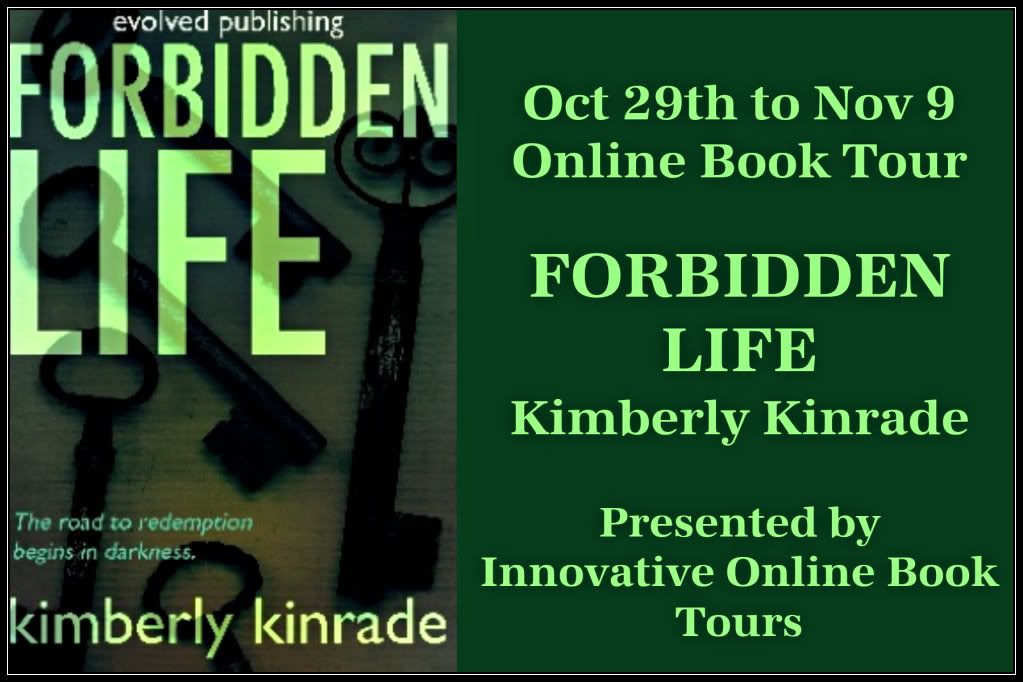 BOOK BLURB:
The road to redemption begins in darkness. A sinister force waits for them in darkness, ready to devour their powers and take their lives. Sam's baby is the key to a lock that must never been opened. To keep her child safe, Sam will do anything. Drake might have found a way to get his powers back and save his family, but is it too late? Luke and Lucy uncover secrets in an organization they thought they could trust, and the lives of all Rent-A-Kid children are at stake. In this last Forbidden Trilogy installment, the secrets to Rent-A-Kid will finally be revealed.
My review:
Kimberly Kinrade is officially my newest author-crush.
Forbidden Life
is the third book in the Forbidden Trilogy and it was just as amazing as the first two! I read all three of these in quick succession as soon as I could get my hands on them. (You can read my reviews of
Forbidden Mind
and
Forbidden Fire
by clicking the titles.)
In
Forbidden Life
, we finally meet the evil behind the Rent-A-Kid empire. Sam, Drake, Lucy, and Luke each face their own battles and must answer the question: Does the end justify the means? The action is fast-paced and the story is full of surprises and new characters. While the the main characters try to determine who is "the good guy" and who is "the bad guy", the reader is left wondering the same thing. Who can the Rent-A-Kids trust to help them? Will everyone get out alive?
With a bit of humor:
She flipped through the pages of her apps, as if Apple made an app for "Escape from a deserted island.
And wisdom:
She refused to be one of those girls who fell for a pretty face that just white-washed a total jack-ass underneath. She could ogle, but she would not fall until she knew he deserved her.
You don't want to miss this final book in the Forbidden Trilogy!
About the book:
Title:
Forbidden Life (Forbidden #3)
Author:
Kimberly Kinrade
Publisher: Evolved Publishing
Release date: Oct. 13, 2012
Pages: 394
Where I got the book: Free from the author in exchange for an honest review
a Rafflecopter giveaway
Follow the tour:
10/29 Guilty Indulgence Guest Blog, First Chapter, & Giveaway
10/29 Andrea Heltsley Books Review
10/29 My Other Book Blog Review and Giveaway
10/30 Reader Girls Review, First Chapter and Giveaway
10/30 My Cozie Corner Review and Giveaway

11/7 The story of a girl... Review
11/8 The Clumsy Coquette Review
11/8 Doctor's Notes Review and Giveaway
11/9 A night's Dream of Books Review
11/9 Simply Infatuated Spot Light and Giveaway
11/9 Lissette E. Manning Review and First Chapter
11/9 Nette's Bookshelf Reviews Guest Blog, Review, and Giveaway
11/9 A Soul Unsung Spot Light, Guest Blog, and First Chapter
10/23 Rea's Reading and Reviews Review
11/9 Princess of Pages Review
10/31 Dahl's Doll Spot Light

10/31 The Bunnies Review Review

10/31 Eternally Books Guest Blog, Review, Interview, & Giveaway

11/1 Bookish Things & More Review and Interview
11/4 The Avid Reader First Chapter
11/5 Andi's Young Adult Books Spot Light,, Guest Blog, Review, First Chapter, and Giveaway
11/9 The Cover by Brittany Interview & Review11/6 For The Love Of Film And Novels Interview, First Chapter, and Giveaway
11/6 A Date with a Book Review, First Chapter, and Giveaway
11/7

Michelle's Paranormal Vault of Books Guest Blog, Review, and Giveaway