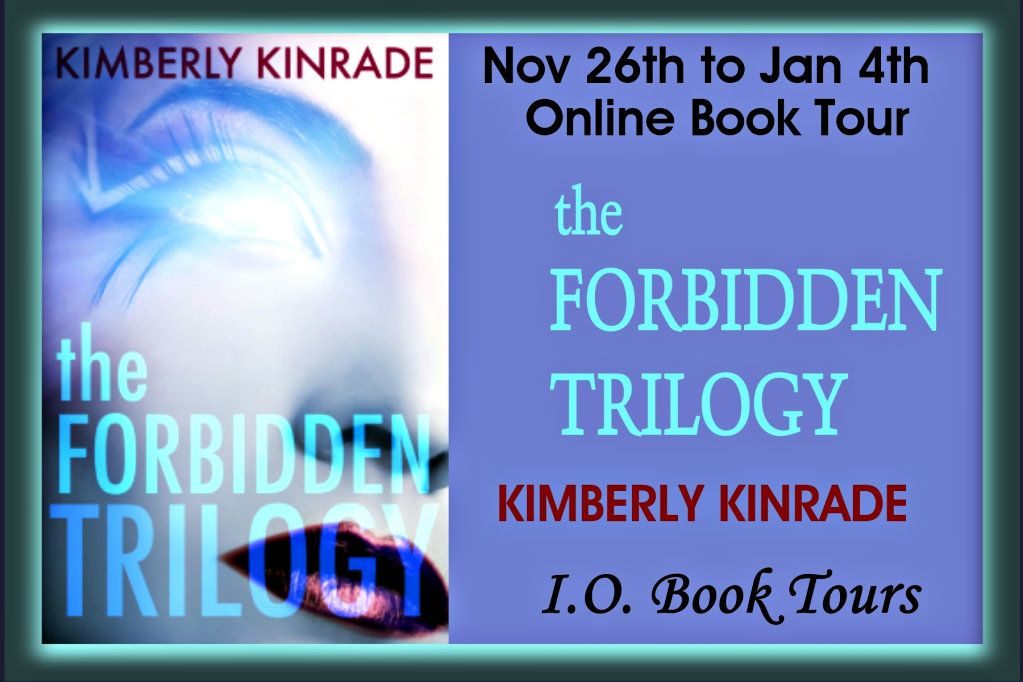 BLURB:
Paranormal teens with unimaginable powers. A secret organization with deadly intentions. When Sam, a girl who reads minds, meets Drake, a boy who controls minds, they discover their lives aren't what they thought.
Together, they must escape their fate and free their friends, before they lose everyone they love.
This special edition omnibus includes the entire Forbidden Trilogy--Forbidden Mind, Forbidden Fire and Forbidden Life, as well as extensive bonus content. Meet the author in an in-depth Q&A, get to know your favorite characters better, enjoy never-before-revealed interlude scenes and so much more.
I loved the story in the three books and you can find my reviews by following the links above. The Forbidden Trilogy combines all three books into one, along with discussion questions, character profiles, a note from Sam and Drake, Q&A with the author, and a playlist.
I liked that all of the books are together so you can just read straight through. Trust me, you won't want to wait to see what happens in the second and third books. Instant gratification is fun and is harmless when it involves books. ;-)
I enjoyed the character profiles from the IPI files, but the notes that accompanied them were a little weird. There were not notes for every character, so there was no consistency and Sam's note was odd because her profile is written as if current as of the end of the third book, yet her note sounds as if it were written during the first book. It wasn't really
consistent
. I didn't like Lucy's, either. It just seemed thrown in, as did Brad's interview with Mary. I think the profiles could have stood alone and the extra stuff didn't really add anything for anyone who has read the books. Brad's interview with Hunter, on the other hand, was hilarious. And there are pictures of hot guys. (There are pictures of the girls, too, if you care. I didn't find that important. ;-) )
I also didn't see the point of the extra note (I know I keep using that word, but I don't know what else to call them) from Sam and Drake. All of these things are placed at the end of the trilogy, so the assumption is that the reader has already read all three books. These little notes don't do anything except summarize the story over and over. And if they're meant to be read first, they don't need to be with the discussion questions, which are full of spoilers.
I did love the Q&A with Kimberly Kinrade. There are some great questions about the series and about Kimberly's writing and family. The playlist is interesting, too.
I would definitely grab this book! Having all three of the Forbidden books together is great, and the extras at the end are just a bonus.
Giveaway:
Join the Facebook Event and win free books!
Join Kimberly Kinrade in celebrating the launch of the Forbidden Trilogy! Throughout the day on Monday Nov 26th the author will be doing random giveaways at this event, so keep an eye out for prizes and help spread the word!!
From November 26th to November 30th
Forbidden Mind
, the first book in the trilogy, will be 99 cents to celebrate the launch. Share the news and encourage your friends to delve into this award-winning trilogy. Get The Forbidden Trilogy for only $9.99, all three books for $5 off retail!
Everyone who buys
The Forbidden Trilogy
for $9.99 on the day of the launch, November 26th, and sends Kimberly Kinrade proof of purchase (kimberly.kinrade@gmail.com) will get a free short story from Kimberly Kinrade.
As certain rankings on Amazon are met throughout the day and week, the prizes will increase. Those with proof of purchase could win signed postcards from Sam and Hunter, more short stories, a free e-copy of Kimberly Kinrade's first book,
Bits of You & Pieces of Me
, and more!
Disclosure: I received this book free from the author in exchange for an honest review.